Setting the Table For Your 2019 Wedding
A new year means new opportunities for everybody. Some folks are looking to shed some of that holiday weight with a regular exercise routine, some are facing the world with a more optimistic and energetic attitude, and a lucky few are tying the knot with their special someone. While every couple should plan their future weddings at their own pace, recently engaged lovers should consider to start planning your upcoming 2019 wedding around the first of the New Year!
Camelot Party Rentals is the premier location for wedding rentals. If you're starting off your year planning a wedding, we are here to help. One of the most significant components of a wedding is the food and dining. Every wedding needs to feed its guests, whether it's with a full course meal or just an appetizer bar. We at Camelot Party Rentals offer elegant and stylish dining ware items that will take the look of your wedding dinner to the next level!
If you're looking to spice things up for your wedding's meal, Camelot Party Rentals has plenty of table coverings to meet every couple's desires. Accessories like our fine, specialty linens will add an extra dash of class to your guest tables and head table at your wedding's venue. We offer a large selection of specialty linen in a variety of different colors and styles. Whether you're going for a rustic or modern aesthetic, our linens are the perfect addition to your upcoming wedding's dining space!
Along with our linens, we at Camelot Party Rentals also offer quality tableware accessories. Our china sets come in a variety of patterns and shapes from the very simple to the very ornate. Your choice of China can be complemented by classy flatware and glassware, too. Our flatware sets come in gold, silver, black, and even rose gold finishes that are sure to add some flair to the tabletop, and our beautiful glassware has options for various beverages! To go along with linens and tableware accessories, we have plenty of tables and chair(s) rentals available.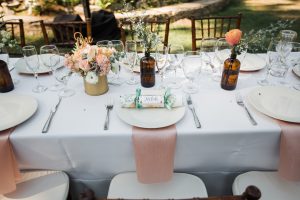 So, if you're planning your perfect wedding with the perfect ceremony dinner during this New Year, be sure to set those tables right with Camelot Party Rentals!